La Vita Dolce cafe offers made-to-order paninis, locally-baked goods (pastries, muffins, biscotti, cake and more), hot breakfast options, and small plates.  We also serve wine by the glass & bottle and craft beers that change seasonally.
Panini & Sandwiches
An apple can be substituted for chips on any item that comes with chips. 
 Anytime Breakfast Sandwich: Sausage or bacon, egg, and cheese grilled on toasted white, wheat, or a bagel.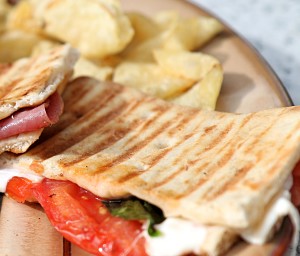 Caprese Panini: Fresh mozzarella, tomato and basil grilled on flatbread and served with chips.
Chicken Pesto Panini: Our most popular panini! Roasted chicken breast, fresh mozzarella, tomato and pesto grilled on flatbread. Served with chips.
Genoa Salami Panini: Boar's Head genoa salami with fresh mozzarella, tomato, and balsamic glaze grilled on flatbread. Served with chips.
Italiano Panini: Boar's Head genoa salami, Boar's Head pepperoni, fresh mozzarella, and roasted red peppers grilled on flatbread. Served with chips.
BLT: Traditional BLT with plenty of bacon, grilled on white or wheat. (Also try on an Everything Bagel!) Served with chips.
Chicken Salad Wrap: White meat chicken breast with dried cranberries and pecans served with lettuce in a wrap. Comes with chips.
Grilled Cheese (with Tomato Basil Soup): Melty cheddar cheese on white or wheat (feel free to add bacon or tomato!). Served with chips — or sub chips for a cup of creamy tomato basil soup.
Peanut Butter & Jelly: The classic served with chips.

Small Plates & Snacks
Great complements to our Wine & Beer selection!
Cheese & Accoutrements: Sharp New York cheddar, French brie, and smoked gouda served with organic raspberry preserves, apple, pickles, olives, salt and pepper cashews and balsamic glaze.
Fresh Mozzarella Quesadilla: Fresh mozzarella, pesto & tomato grilled on a flour tortilla & served with balsamic glaze.
Chicken Salad & Pita Chips Cranberry pecan white meat chicken salad with crunchy pita chips.
Pretzels & Mustard Crisp pretzel chips with Pale Ale & Honey Spice mustard
Nut Tray Roasted almonds, salt & pepper cashews, praline pecans
Quiche: Two varieties of homemade quiche — tomato basil and spinach.

Wine
Twin Vines Vinho Verde: From Northern Portugal, a true Vinho Verde. Bright, light and refreshing with a touch of lime and effervescence.
Il Donato Pinot Grigio: A light, crisp and refreshing Italian Pinot Grigio. A palate-cleansing crowd-pleaser with citrus flavors on the palate.
The Crossings Sauvignon Blanc: From Marlborough, New Zealand, this is a citrusy wine with a balanced palate and crisp finish.
Domaine Gérard Fiou Sancerre: From old Sauvignon vines in the closest village within the Sancerre appellation to the Loire River in France. Beautifully balanced from vineyards planted in flint, giving an intense minerality to the wine.
Smoking Loon Chardonnay An unoaked California Chardonnay with a creamy mouthfeel and persistent finish. Stainless steel barrel aging reduces spiciness and highlights aromas of pineapple, melon, and pear. A versatile food pairing wine.
Aragus Garnacha Rosé A Spanish Rose made with 100% Garnacha vines, giving concentrated grape profiles. Strawberry aroma and flavor, medium body, smooth, well-balanced.
Meiomi Rosé A light salmon colored California Rosé that is dry with vibrant acidity, flavors of stone fruit and strawberry, and a finish with cool minerality
Havenscourt Pinot Noir A California wine with light red fruit flavors (cherry and raspberry), subtle earthiness, and medium body.
Big House Red Blend A blend from Monterey County, California with over 25 varietals. A relatively light and fruity red wine.
Trapiche Malbec The Mendoza, Argentina region provides a high elevation, allowing grapes to fully ripen. Dark red fruit flavors (plum and blackberry) with a spiciness from nine month aging in neutral oak.
Trivento Reserve Cabernet Sauvignon Reserve From Mendoza, Argentina this is the heaviest of La Vita Dolce's wines and is aged in French oak for six months. Spicy, drier, yet an easy-drinking Cabernet Sauvignon, with or without food.
Mionetto Organic Prosecco Mionetto has been producing wine in Veneto since 1887. Made from 100% organic grapes, this is a refreshing and crisp Prosecco with significant green apple and floral notes.
SPECIALTY Frozen Lemon Vinho: Light & spritzy Vinho Verde wine is poured over a scoop of our made-in-house lemon sorbet for a refreshing afternoon or evening cocktail.
Beer
Sierra Nevada Pale Ale (Chico, CA) American Pale Ale, 5.6% ABV.  A classic pale ale with piney and grapefruit aromas. Great blend of malt and piney hops.
Bad Penny (Raleigh, NC) English Brown Ale, 5.2% ABV. Dark brown ale that is slightly sweet with a caramel and dark fruit finish. Uses pale, chocolate, and crystal malts to produce a complex but easy-drinking dark ale.
Sam Adams Boston Lager (Boston, MA) Vienna Lager, 4.9% ABV. Full-flavored, medium-bodied. Strong malt presence with notes of sweet caramel that complement the spiciness of the hops. Try with nuts or our Chicken Salad & Pita Chips.
Stella Artois (Leuven, Belgium) Euro Pale Lager, 5.0% ABV. Lighter beer that's golden in color with exceptional clarity and a spicy hop character.
Coney Island Hard Root Beer (Brooklyn, NY) Herbed/Spiced Beer, 5.8% ABV. This beer is exactly what its name indicates – an alcoholic root beer with hints of vanilla, licorice, and birch. Try over our made-in-house vanilla gelato for an adult root beer float.
View Gelato or Coffee & Espresso options.